MENS AND WOMENS BEST TWELVE
Responsible Author: Leon Libin | New York, 11/05/2019, 11:07 Time
USPA NEWS -
ZEN-NOH 2019 ITTF Team World Cup, commencing tomorrow in Japan's capital Tokyo is the focus of table tennis global community and table tennis fans over the world for the next five days The best 12 teams in Women´s and the same number in Men's categories will playoff the total prize money of $270,000. and gold, silver and bronze medals accordingly.
The Women's Teams are China, Japan, Chinese Taipei, Hong Kong, China, Ukraine, USA, Romania, the Republic of Korea, Egypt, Austria, Vanuatu, Brazil. The Men's contenders are China, Japan, Germany, the Republic of Korea, Chinese Taipei, Austria, Brazil, Sweden, Nigeria, England, Australia, USA.
Stay tuned and you can follow on the ITTF website: www.ittf.com
USA TABLE TENNIS TEAM ON ITTF 2019 WTTC
Responsible Author: Leon Libin | New York, 06/28/2019, 22:53 Time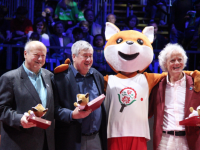 USPA NEWS -
2019 LIEBHERR ITTF Individual World Table Tennis Championships took place in the capital of Hungary "" Budapest from April 21 till 28, 2019. Ninety-nine world´s countries took part in this the most important and representative table tennis event of the year. Hungarian hosts in the collaboration with the ITTF provided excellent conditions for athletes to compete at.
Great interest from table tennis fans, local and, who came from all over the world to enjoy outstanding matches all way along the Championships and to support their favorite teams an players, created an unforgettable atmosphere of a table tennis festival in the competition halls and outside during all days of the Championships. That was very touchy when organizers and spectators warmly and with admiration celebrated in the Main Arena the Hungarian Worlds Gold Table Table Tennis Team of 1979: Istvan JONYER, Tibor KLAMPAR, Gabor GERGELY.
| | |
| --- | --- |
| | RAHMA-SOPHIA RACHDI |
| | Daren Frankish |
| | Ruby BIRD |
| | Yasmina BEDDOU |
| | Aurangzeb Akbar |